My Blog
Posts for: January, 2015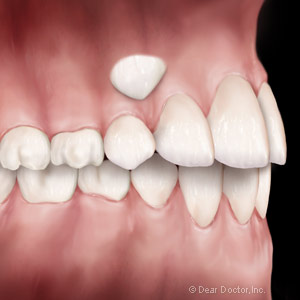 The final emergence of permanent teeth in late adolescence marks the end of a long process beginning in the womb with the formation of our primary or "baby" teeth. Permanent teeth form in a similar way as buds high in the jaw, continuing to grow until the primary teeth ahead of them fall away. The crowns of the new adult teeth eventually break through the gum tissue and emerge (erupt) into view.
At least, that's normally what should happen; sometimes, though, a tooth may only erupt partially or not at all, a condition known as impaction. The crown remains partially or fully submerged below the gum line, causing the tooth to press against other teeth, potentially damaging them. It can also make periodontal (gum) tissues adjacent to the area more susceptible to disease. Wisdom teeth are especially prone to this kind of impaction, to the extent they're often surgically removed (extracted) to avoid future problems to adjacent teeth or the bite.
Upper canines (the "eye teeth" normally located directly below the eyes) are also subject to impaction. But because of their highly visible position, extracting them could have an adverse impact on the patient's smile. In this case, we often attempt instead to expose and ultimately save the tooth.
Before taking any action, however, an orthodontic examination is conducted first to pinpoint the exact position of the impacted tooth and determine how that position might affect moving teeth into a more desired alignment. If we find the impacted canine is in a workable position, the next step is to surgically uncover the tooth from the gum tissue (a minor procedure usually performed by an oral surgeon or periodontist). Once exposed, an orthodontic bracket with a small attached gold chain is bonded to the tooth. The gums are then sutured back into place with the chain exposed and allowed to heal.
At some future point an orthodontist will attach the chain to orthodontic hardware that will pull the impacted tooth into proper position over several months. As a result, the upper canine becomes "un-impacted"; the dangers to surrounding teeth and tissues are also reduced. And, just as important, we can preserve the tooth and with orthodontics achieve an attractive, normal smile.
If you would like more information on the effects and treatment of impacted teeth, please contact us or schedule an appointment for a consultation. You can also learn more about this topic by reading the Dear Doctor magazine article "Exposing Impacted Canines."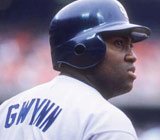 What would it take to get you to give up tobacco? For major league baseball player Addison Reed, it took the death of his former coach, Tony Gwynn. Gwynn, a Hall-of-Famer who played for the San Diego Padres in addition to coaching at San Diego State, was just 54 years old when he died of oral cancer. As soon as Reed heard the sad news, the Arizona Diamondbacks' relief pitcher says he knew what he needed to do: He took every can of smokeless tobacco he owned and dumped them all in the trash.
"It's just become a habit, a really bad habit," Reed told an interviewer at MLB.com. "It was something I always told myself I would quit." But quitting took him many years — in fact, Reed admitted that he first started using smokeless tobacco as a junior in high school.
People begin using tobacco — in the form of cigarettes, cigars, pipes, or smokeless types (snuff, chewing tobacco, or dip) — for a variety of reasons. One major draw is that they see others doing it. And, while smoking is prohibited in most all Major League venues, the use of smokeless tobacco has remained fairly widespread.
Smokeless tobacco isn't a safe alternative to cigarettes. According to the National Cancer Institute, it contains 28 carcinogenic agents. It increases the risk not only for oral and pancreatic cancer, but also for heart disease, gum disease, and many other oral problems. It's also addictive, containing anywhere from 3.4 to 39.7 milligrams of nicotine per gram of tobacco — and its use has been on the rise among young adults.
But now the tide may be turning. After Addison Reed's announcement, his former college teammate Stephen Strasburg (now a pitcher for the Washington Nationals) resolved that he, too, would give up tobacco. "[The] bottom line is, I want to be around for my family," said Strasburg. Mets left-hander Josh Edgin has vowed to try quitting as well. It's even possible that Major League Baseball will further restrict the use of smokeless tobacco at games.
What does this mean for you? It may just be the opportunity you've been waiting for… to stop using tobacco. Dentists have seen how quickly oral cancer can do its devastating work — and we can help you when you're ready to quit. The next time you come in for a checkup, ask us how. Your teeth and gums will thank you — and your family will too.